I've been writing this newsletter for almost 8 years now and there's been so much that's happened between now and then.  My focus initially as an artist was on original music and while I still believe in my heart that it's the utmost way for an artist to express themselves, it's been three years since I've released anything--let alone written much.  Priorities change in life and you make decisions best for you.   
The last three years have been very happy for me in getting married, travelling, focusing on bettering myself, and playing more than I ever have before.  It's a good busy but hasn't left time for the original music.  People have wondered why I've stepped out of that realm, and it wasn't intentional, only that I've been feeling fulfilled by these other things in life. 
I do feel the tug to write again and one day I will.  I've also somewhat concluded that original music in the Washington, DC area is underappreciated--there's a ton of things to compete with for people's attention here and it's tough to connect with many people.  It's hard to accept this, but there are ways around it that I'm figuring out. 
In this quarter's newsletter: 
- Summer residency at Hyatt Place in DC 
- Upcoming Trip to Asia 
- Outdoor shows this summer 
Hyatt Place Hotel Ellipse Rooftop Bar Residency 
Back in the spring I was contacted by Hyatt Place to be a part of the music they were starting on their rooftop bar in downtown DC.  As it turns out, they hired me to play the whole summer!  The every Monday (usually) series with me has started and you're welcome out anytime.   
Below is the information and a views of the rooftop bar which has a retractable roof and sides to keep out rain and wine as well as heating lamps if it's chilly.  Plus there have been some great sunsets.  So far it's been a great experience! 
Where: Hyatt Place White House 1522 K Street, NW Washington, DC 
When: every Monday through August 6-9pm 
Other details: happy hour until 8pm on food and drinks, metro accessible, sunset views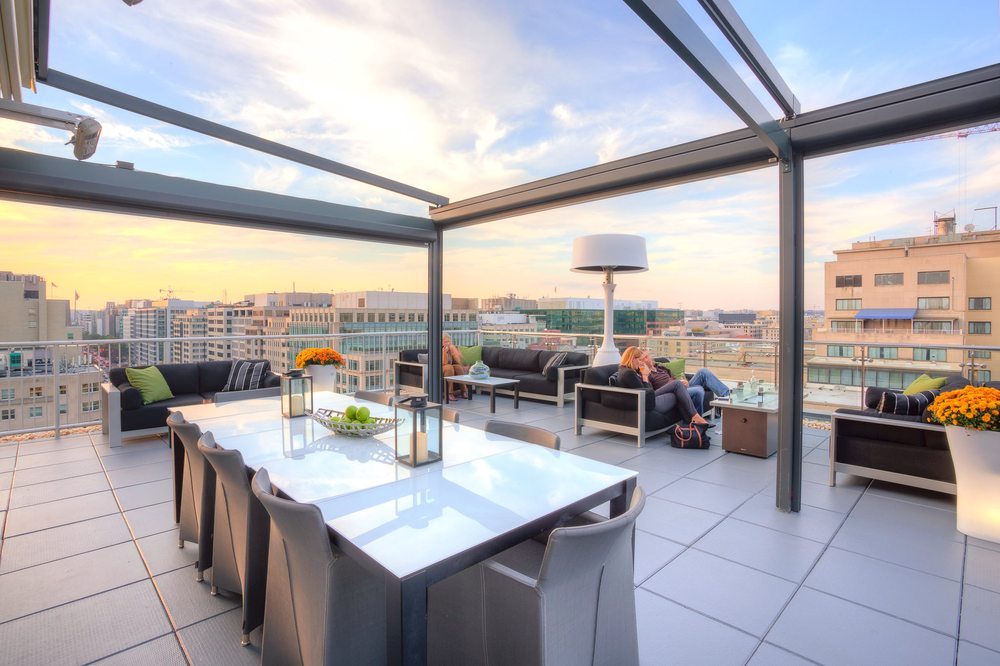 Thailand and Bali Trip 
In a month from now, I'll be heading to Asia for the first time.  My wife, Sara, and I have been world travelers since we've met and decided to take a bigger trip this year to somewhere very different than where we have been to in the past.  I have not been to Asia before (she has), but I am very excited to take in the Buddhist culture in Thailand and Bali, learn about Thai food, climb a volcano, practice yoga, and simply be somewhere unfamiliar to me.  Traveling seems to be in my blood as a way to better understand the world and value what it means to be human. 
If you've been to either spot, I'd love to hear about your favorite things from these countries and cultures! 
Summer Brings Outdoor Shows 
As I said up top, I'm playing a lot more shows than I have ever before.  You can always check where I'll be on my website or Facebook page (I post my week ahead by Sunday night).  But here are some great spots to check out, especially outdoors! 
Potomac Point Winery Stafford, VA 
June 30 & September 15 
July 12, August 9, & September 13 
Winery at Bull Run Centreville, VA  
July 8 
50 West Vineyards Middleburg, VA (with my duo FarAway) 
July 16 & September 2 
Bungalow Lakehouse Sterling, VA 
July 13 (solo) & August 13 (FarAway duo) 
Fox Meadow Winery Linden, VA (with my duo FarAway) 
June 25, August 26 & September 10 
Thank you all for reading and should you need music for a private event you can always email me!  I'll be in touch when fall is setting in.  You can follow my Flickr account to see pictures from my summer trip.  Be well! 
Brian